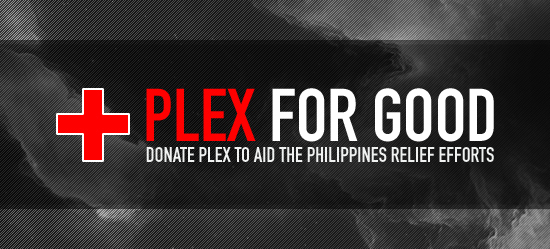 This weekend the 95th numbered RvB Ganked roam – our 105th event in total – heads out into the wilds of space, the theme this week being Navy Battlecruisers & smaller. At the same time, CCP will be running a live stream to raise funds for the latest Plex for Good campaign. 
Now in the devblog all about the live stream, they mention they will be doing various things to encourage people to donate to the Typhoon Haiyan Plex for Good campaign, including shooting Dolan with paintballs, dev roams, eating rotten shark and so much more, and this got me thinking that all of us who are attending Ganked can help out here too.  
So, this Saturday during Ganked 95 – or even earlier if we hear of a Dev roam we can shoot – every time the fleet gets a kill, I would appreciate if EVERY fleet member donates 1,000,000 ISK to my wallet with a note that says "Plex for Good".  At the end of the night I shall tally up the donations and purchase PLEX, which I shall then donate to the character CCP PLEX For GOOD. Finally,  I pledge – if you guys are suitably generous & the gods allow us to get many, many kills – to donate additional PLEX.
Update: Ping Wu has offered to also donate a PLEX for every 3 we raise funds for, so thats 5 we will donate for every 3 raised. And if we do not reach 3, he will donate enough ISK to ensure that we at least have 3 PLEX & that I have to meet my pledge. Kudos to Ping!
I hope to see many of you in Onnamon & Enaluri this weekend, lets hope it is a good roam with many kills.